Larry P. Arnn
President, Hillsdale College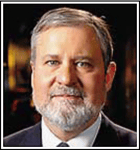 Larry P. Arnn
is the twelfth president of Hillsdale College. He received his B.A. from Arkansas State University and his M.A. and Ph.D. in government from the Claremont Graduate School. From 1977 to 1980, he also studied at the London School of Economics and at Worcester College, Oxford University, where he served as director of research for Martin Gilbert, the official biographer of Winston Churchill. From 1985 until his appointment as president of Hillsdale College in 2000, he was president of the Claremont Institute for the Study of Statesmanship and Political Philosophy. He is the author of
Liberty and Learning: The Evolution of American Education
;
The Founders' Key: The Divine and Natural Connection Between the Declaration and the Constitution
; and
Churchill's Trial: Winston Churchill and the Salvation of Free Government
.
The following is adapted from a speech delivered on December 1, 2017, at Hillsdale College's Allan P. Kirby, Jr. Center for Constitutional Studies and Citizenship in Washington, D.C.

"Wars and rumors of wars"
are all around us. At Hillsdale College we have been thinking about the greatest of all wars, the Second World War. If we study that war and the actions of its profoundest statesman, we can find some lessons to guide us today.

We think of World War II in part because a fine film has just come out about the beginning of that war. The film is called
Darkest Hour
, and we know and admire its lead actor Gary Oldman and its producer Doug Urbanski, both of whom will be visiting our campus soon. We also think of that war because we have just sent to the printer Volume 20 of
The Churchill Documents
, the series of documentary volumes that will soon complete the official biography of Winston Churchill, of which Hillsdale College Press is the publisher. Volume 20, entitled
Normandy and Beyond
, ends on December 31, 1944. . . .
continue reading